Pay My Bill: Log in/Sign up
Recycling
At Peña's Disposal, recycling is the very focus of what we do. Our Material Recovery Facility is a one-stop shop for all recycling and refuse needs. Peña's processes recyclables in addition to refuse, organic/green waste, construction and demolition materials, e-waste, and household hazardous waste.
Our recycling starts with waste hauling, which allows Peña's customers to use a 96-gallon blue cart to dispose of items that can be recycled. The blue cart is emptied curbside and transported to our Material Recovery Facility, where the items are weighed and sorted by commodity to ensure that recyclables do not end up in the landfill.
Customers can also self-haul to Peña's in Cutler where the same process applies – we weigh and sort the material by commodity.
Download "Recycling Done the Right Way" to learn what goes in the blue recycle container: English or Spanish

Recyclable Material
GLASS:
METAL:
Aluminum cans, Clean Aluminum Foil, Steel Cans, Tin Cans, Pie Tins, Metal Hangers
PAPER:
Cardboard, Dry Food Boxes, Paper Bags, Packaging, Magazines, Catalogs, Newspaper, Phone Books, Paperback books, Notebooks
PLASTIC:
Plastic Bottles & Containers, Kitchen Bottles, Bath/Shampoo Bottles, Laundry/Detergent Bottles
DO NOT THROW:
Batteries
Clothing or blankets
Electronic waste
Food Waste or Food Trays
Furniture, cushions, or pillows
Green/Yard or Animal waste
Mattresses
Plastic bags
Sharps or Syringes
Styrofoam
Wood
YOU NEED TO:
Rinse to remove all food & liquid residue; no lids or caps
Rinse to remove all food & liquid residue; place steel & tin can lids back in can
Flatten boxes; remove internal plastic bag; remove hardcover from books; remove metal/plastic bindings from notebooks
Rinse to remove all liquid residue
DO THIS INSTEAD:
Take to Hazardous Waste drop off facility
Donate to a Church or Goodwill
Drop off at our Recycling Center
Compost or throw in trash
Donate or throw in trash
Animal waste should be buried
Drop off up to five (5) free at our facility
Dump recyclables freely; not bagged
NEVER throw in recycle or trash
Throw in trash
If untreated, throw in green/yard waste cart; if treated, throw in trash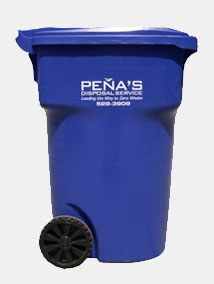 Recyclable Ag Waste
Cardboard
Plastic containers
Plastic coverings
Plastic drip-hose tubing
Plastic ties
PVC pipes
Wood pallets
Fun Recycling Facts
Plastic is recycled into carpet, t-shirt fabric, shoes, sweaters, coats, toys, luggage, and fiberfill for sleeping bags.
It takes millions of years for glass to break down naturally.
A plastic jug will sit in a landfill for up to 450 years before it decomposes.
It takes plastic bags anywhere from 10-1000 years to decompose in landfills.
An aluminum takes from 80 to 200 years to decompose naturally.
So do your part, RECYCLE!
For more information on recycling, visit: www.calrecycle.ca.gov
For more information on recycling in Tulare County, click here.
For more information on recycling in Fresno County, click here.