Pay My Bill: Log in/Sign up
About Us
Company History
Established in 1949 by Salvador Peña, Peña's Disposal Inc., is a family-run and owned company that in the past seven decades has made a name for itself as a dependable, honest, customer service-focused and innovative disposal services company. From simple beginnings as a way for Salvador Peña to collect food waste for his pig ranch, Peña's has grown into a leader of disposal services serving more than 100,000 people, residents and businesses, in Tulare and Fresno counties.
Peña's Disposal operates a successful waste hauling business at its state-of-the-art, 62,000-square-foot Materials Recovery Facility (MRF) where recyclables and e-waste are collected. In addition, Peña's has a chipping and grinding operation for green waste, two certified recycling centers, and a fully permitted construction & demolition facility.
Peña's Disposal is:
Family-owned and operated – three generations STRONG!
The only facility in Tulare County to process refuse, recycling, construction and demolition, green waste, e-waste, and household hazardous waste all at one site.
The first hauler in Tulare County to incorporate green trucks into its fleet.
The first hauler on the road with Natural Gas Vehicles.
The first hauler to start a recycling program.
Proud to be the first company in Tulare County to open a transfer station.
Committed to making a difference in the communities we serve!
Leading the Way to Zero Waste!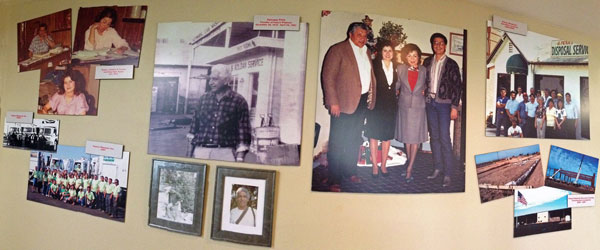 For a copy of our CCR, click here.